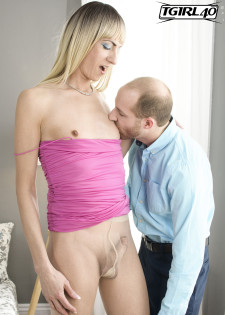 Joy is here and she got a smashing hardcore treat for you. Watching this beautiful tgirl getting fucked by jake Grand is enough to make anyone cum today and you're going to LOVE it!
13th Apr 2023
28:38 HD Video
& 150 Photos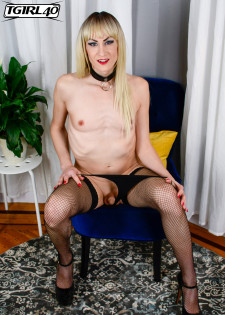 A new collar, for a new night - and Joy Collision is up for it all. Her animal print tight dress doesn't stay on long, and her black matching lingerie is slowly removed to reveal that sweet, smooth lean body that's ready for sex. Her cock is instantly hard and stands straight out from her body, like a sundial pointing to XXX. She pushes her big dildo into her tight hole, ramming herself as she feels every part of it which leaves her happy and gaping. Joy Collision is ready for a night with you.
14th Feb 2023
17:36 HD Video
& 115 Photos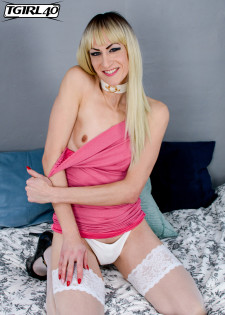 Oh joy and happiness. After her awesome debut this year, Joy Collision returns in this new shoot. This tall drink of water, with a lean toned body has a great look and she's all ready for a night out, with her figure hugging tight dress and just the hint of a bulge pushing through the material. Matching white panties and stay up stockings show-off her legs and that big hard cock, and she's also got a matching white collar to show that she's ready to submit to your will and do whatever it takes to make you happy.
31st Jan 2023
16:47 HD Video
& 116 Photos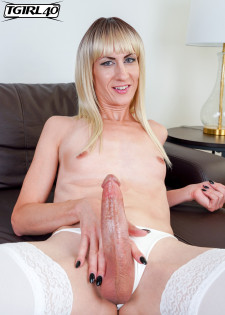 This model is so hot. She's really got quite a beautiful face and on top of that long lean body (oh boy, those legs) with a rock hard cock she really is the ultimate 40-something year old, who has more energy and sexual tension to keep up with any guy. Everything is well put together from the painted toe nails and sweet feet, to her light, classy makeup and pretty face. She may be a #groobynewbie on Tgirl40 but we're hoping to see a lot more of her.
26th Oct 2022
15:46 HD Video
& 111 Photos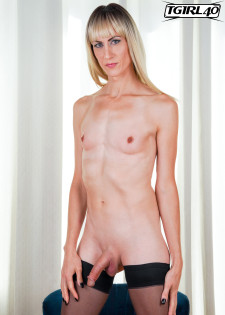 It's such a joy for us to present, Joy! This mature trans girl looks way younger, in better shape and franky hotter than many girls half her age, and she's got the confidence and the class that only a few models seem to have a grasp of. Tall, waif-like body, long legs with stay up stockings, nice nubile boobage, and a body which is toned, feminine and sexy - oh, and she also has a penis on her, which is rather impressive. All in all, this model may be debuting on Tgirl40 but I'm expecting her to feature on our other sites soon.
12th Oct 2022
19:49 HD Video
& 123 Photos